IE & Road Respect Scoop Top Award with IPM
Added: 29th June 2016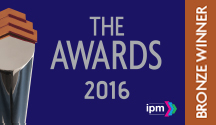 It is with great pleasure that we can announce we have taken home a bronze award at the prestigious IPM Awards 2016! The gong was awarded for Use of Interactive Technology in Promotions for our Spot Roadi campaign with Road Respect of the Northumbria Safer Roads Initiative (NSRI) last summer.
For the campaign we introduced Oculus Rift technology to road safety for the first time in this country, creating a bespoke safe driving experience featuring iconic landmarks of the North East. With this technology we toured around 6 areas of the north east in Roadi, Road Respect's promotional vehicle, on a 42 day consecutive summer campaign. Visitors were invited to take part in the Oculus Rift experience which rewards points for safe driving, with scores being uploaded to an online leaderboard and emailed to each participant, as well as sent out via social media to the Road Respect Facebook page.
We are absolutely thrilled to be announced as winners for this activation as it demonstrates once again how successful a campaign can be when utilising experiential marketing and a 360 degree approach, combining online tools such as social media integration and sharing with live events and new technologies such as Oculus Rift.
Related Images