Tim Hortons Gets Dark With Experiential Campaign
Added: 29th August 2014
Tim Hortons have recently impressed us with an experiential marketing campaign in Canada. They combined a live in-store experience at one of their most popular stores in L'Île-Perrot, Que with an interactive online campaign on their website to launch a new coffee they're introducing, The Tim Hortons Dark Roast Coffee.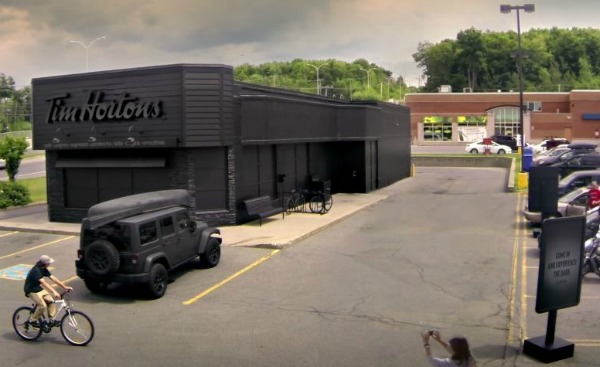 First of all they didn't tell anybody in the local area what they were doing, they just went ahead and painted one of their stores black, blacked out two vehicles outside, blacked out two benches and a bicycle and waited. After a few confused faces and photos taken from the outside of this peculiar occurrence, some of the more loyal customers decided to take the plunge and venture inside.
When they cautiously entered the building they soon realised it was pitch black and they couldn't see anything whatsoever in front of them. After a few seconds of feeling their way around they were greeted with a welcoming staff member donning night-vision goggles who told them to follow the sound of him speaking. Each customer followed the staff member to the counter and were handed a cup of coffee, they had a sip and were asked to describe the taste of their drink. Then, the lights came on and they were greeted with camera crews, lots of happy staff and a great new cup of coffee for them to enjoy.
The full campaign has been teamed with an online game introduced on the Tim Hortons website to "Discover Your Dark Roast Personality". Here visitors are asked a series of questions related to their personality and what they like to do with their time, from how you dress to your sleeping habits and what you like doing in your spare time, you are then given your own dark roast personality and options to share on Twitter and Facebook.
The campaign overall was a great success, with the idea behind the blacked out store being to heighten the customers sense of taste with their sight being out of action. A video put together by Tim Hortons has gained 2.5 million views on YouTube and has also generated a huge buzz on social media outlets with the website activity also having a huge impact on Facebook on Twitter.
Check out the video here:
https://www.youtube.com/watch?v=svfFvkHgeWY
Related Images