Top Brands Go Experiential For The Holidays
Added: 19th February 2015
Holidays can be a brilliant opportunity to unleash a well thought out and clearly targeted experiential campaign to really take advantage of a shared interest that gets everybody talking. This was typified at the weekend with Kleenex taking full advantage of Valentines Day where they encouraged the public to record themselves blowing a 'Kleenex Kiss' (kissing a tissue and giving it to a loved one) in various key London railway stations. Videos were then uploaded to a dedicated mini website over the weekend and shared on social media via Twitter and Facebook, with the first 4,000 visitors being given the opportunity to send a limited-edition gift box with their message and a single red rose to take home as a Valentine's gift to their loved ones.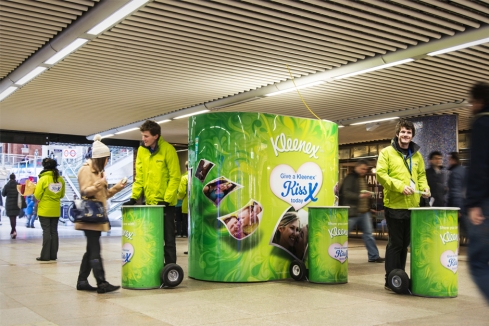 The idea came from the desire to build year-round usage by inspiring people to give a Kleenex tissue to a friend or loved as a gesture of care and compassion. Valentine's Day provided a perfect occasion for people to express their love for those closest to them and nothing does that quite like sending kisses to each other.
Alex Pickering, head of marketing at Kleenex, said:
"This Valentine's Day weekend we invited London commuters to proactively share their kisses and show they care. This is a notable step forward to encourage people to always have their tissues at arm's reach, so that they can make these positive gestures every day."
This is an excellent way of combining brand activations with an online digital output and with a brilliant interactive idea as simple as a photobooth, Kleenex have managed to capitalise on the popularity of holidays and apply it to form an even wider campaign where the leading tissue company are looking to transform the tissue into a tangible symbol of love and everyday gesture of care; the gesture being described as a 'Kleenex Kiss'.
Kleenex weren't alone with their Valentines experiential activations, with Coca-Cola, Madame Tussauds, Meredith Bespoke and The Deck at the National Theatre, London all carrying out various successful activations over the weekend, once again showing us the importance of capitalising on holidays as a way of activating your brand, using a live activation to increase brand awareness and engagement levels both online and face to face.
With Mothers Day and Easter just around the corner, a well connected and immersive campaign could really work wonders to increase the reach of your brand, enhancing awareness and engagement exponentially. The tangible and measurable return of investment in the form of social interaction and increases in website traffic, combined with the experiential experience and the memory, not only reinforces the brand identity but helps create brand advocates.
So what is your brand doing to magnify its reach this Easter?
Related Images