Newcastle Building Society Treasure Hunt
Added: 3rd October 2015
What They Asked
An exciting and interactive half term activation to promote their store in Manor Walks, Cramlington.
What We Did
Devised a treasure hunt for children which led them to the Newcastle Building Society store location in Manor Walks Shopping Centre. The treasure hunt was created with specific places within the centre in mind, with clues at different places to help the process along.
We recruited promotional brand ambassadors who dealt with children and parents, helping them work out the clues and move on to the next clue location. Balloons and goody bags were given to the children throughout the day and at the end of the treasure hunt as reward for completing the activity.
When the children and families reached the store at the end of the hunt they were greeted with free cake, giveaways and a face painter for the children. This was very useful as it worked in conjunction with the treasure hunt and enticed the families inside the store. The brand ambassadors took photos and sent them out to the client as well as sending out via the Independent Events social media channels to further extend the campaigns reach and spread the word about the new opening.
Outcome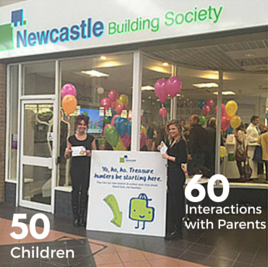 - Newcastle Building Society
Related Images