Go-Smarter Share-Smarter To Work
Added: 9th October 2014
What They Asked For:
A set of experiential marketing activations within the business sector, targeting employers and employees to encourage drivers to take positive environmental action such as sharing car journeys to reduce their carbon footprint.
What We Did:
Handed out free cake giveaways to staff with free literature and information about the benefits of car sharing and Go Smarter as an organisation. Relevant business areas of The North East were targeted and included Team Valley, intu Metrocentre and key business parks in Washington, Northumberland, Newcastle and Gateshead.
Street teams of brand ambassadors were carefully recruited and briefed before heading out to the selected locations. Donning fully branded uniforms and equipped with branded cake giveaways, leaflets and a bespoke Peugeot iOn electrically powered Go Smarter/Co Wheels branded promotional vehicle, the teams set about visiting the selected businesses, handing out the free giveaways and spreading the word about the promotion and directing people to the share smarter website.
Outcome:
The activation led to over 300 businesses being enaged with over the five day activation and over 650 one to one personal interactions with the public across the week. The campaign was a success surplassing all targets set by the client and receiving get coverage in the press.
- Go Smarter to Work
Other case studies for Go Smarter to Work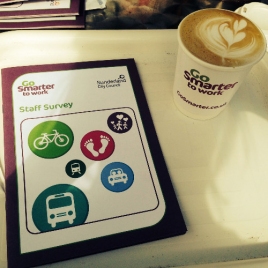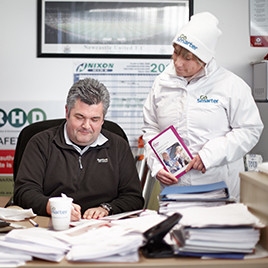 Related Images