Northumberland College Enrolment
Added: 5th August 2014
What They Asked For:
To increase awareness of Northumberland College courses in targeted areas throughout the North East through the use of social media and live events.
What We Did:
We pin pointed the most relevant catchment areas for the college and deployed street teams of promotional staff to each location across the space of a week. Each brand ambassador was armed with Instagram frames and branded cartoon speech bubbles where potential students wrote the name of the subject they wanted to study at college.
Free Northumberland College highlighter pens were distributed to the public with information on courses and open days and a photo upload competition was introduced, where boohoo.com fashion vouchers were on offer for the photo with the most likes, shares, retweets or favourites on Facebook, Twitter and Instagram.
The competition was implemented to encourage students to share their photos with friends via social media, increasing the reach of the campaign and enhancing the brand image of Northumberland College. The free giveaways acted as a brilliant hook to entice members of the public and engage with them, opening up conversation about open days and course information.
Outcome:
Results from the 7 day activation showed the brand ambassadors interacted positively with over 1500 members of the public who were given beneficial information about the available courses. The client also recorded an increase both online and at the college with regards to course and college awareness as a result of the activation.
"I think the campaign was great fun and has captured the awareness of some new prospects."
Gillian Symington - Marketing & Communications Manager - Northumberland College
Other case studies for Northumberland College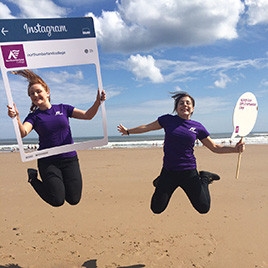 Related Images