Tyne & Wear Corporate Pass Activation
Added: 27th March 2014
What they asked for:
A series of experiential activations to promote the Corporate Metro Saver Pass scheme to business owners and employees.
What we did:
Business parks near metro stations around the north east were targeted and included the likes of The Toffee Factory in Ouseburn, South Shields Business Works, Greenesfield Business Centre, Hoults Yard and Newcastle Enterprise Centres.
Three enthusiastic brand ambassadors in branded station master uniforms joined two professional coffee baristas and a fully Tyne & Wear Metro branded coffee cart promotional vehicle. The team travelled around the business parks and offered free coffee to business employees . The brand ambassadors engaged and interacted with the workers, handing out literature, spreading the word about The Corporate Pass and its benefits to both employers and employees, creating memorable experiential moments that set Twitter buzzing.
Outcome:
The feedback received from the visitors to the cart was extremely positive and the objective of spreading the word about The Corporate Pass Scheme with a fun, on-brand, effective experiential experience was fully recognised and achieved.
It created a massive amount of social media buzz and drove content generation for the client with Twitter set a light with retweets and favourites across the campaign. Visitors to the cart itself were very complimentary of not only the free giveaways but the information on offer by the client and IE's brand ambassador promotional staff.
- Nexus
Other case studies for Nexus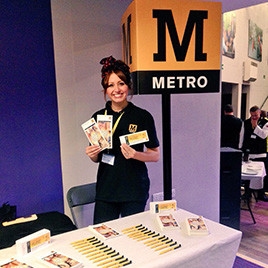 Related Images