Road Respect Eldon Garden Popup Shop
Added: 13th November 2014
What they asked for:
An pop up shop experiential activation to expand and increase the overall reach of So You Think You Can Drive and #ladsvlasses online competitions.
What we did:
Opened a pop up shop in Newcastle City Centre to promote and run alongside the So You Think You Can Drive and #ladsvlasses competitions, designed to test driver's awareness of safety on the roads.
Drink driving simulators, promotional staff and lots of colourful road safety infographics filled the pop up shop with paper and iPad versions of the So You Think You Can Drive competition and the new Lads Vs Lasses online competition also available. Visitors with good driving simulator scores were able to get their photos put up on the newly introduced Road Respect Wall Of Fame using an instant Polaroid Camera and there were beer goggles, GoPro cameras and faceboard cutouts detailing which type of driver you are all within the shop, encouraging people to upload photos to Facebook, Twitter and Instagram, increasing social media content creation as a result.
To ensure the maximum reach overall, tweets using the #SoYouThinkYouCanDrive hashtag were projected on to the wall of the pop up shop with simulator scores and photos tweeted by visitors. The Newcastle Road Safety Team also contributed free literature and giveaways for the public, focusing on road safety and the various issues surrounding the topic.
Outcome:
Footfall of over 2800
Over 500 competition entries
Over 1500 giveaways passed out to the public
59.3k Twitter Impressions over the 21 day activation
2.8k Twitter Impressions daily
This marks a 150.21% increase on the month previous with no event taking place with an average of almost 3k impressions every day the pop up shop was open.
To see more of our work with Road Respect, click here.
""Eldon Garden are thrilled to be able to host the Road Respect pop up shop in our centre for the first time. It's such good fun for drivers whilst getting a very serious message across, especially at this time of year. We hope it will make drivers in our region more aware as many of our customers drive to Eldon Garden and we hope this will ensure visitors to our centre get to and from Eldon Garden safely. We encourage all of our customers to come and take up the challenge!""
Rachael Mallaburn - Centre Management Assistant - Eldon Garden
Other case studies for Eldon Garden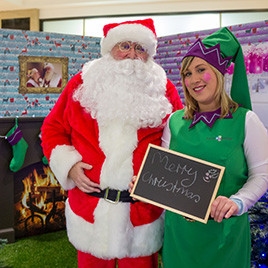 Related Images